We now have a disabled toilet fitted out to Changing Places standard. It has a ceiling track hoist, height adjustable changing bench, height adjustable hand basin, shower and toilet.
Opening Times
It is not open every day. It is only open when we have events on. So please check our programme of events on our website for theopening times.

Access
It is accessed by getting a key code for the door from one of our volunteers.
Hoist
The hoist model is Guldmann GH3 200 110 3K. Maximum weight itwill carry is 200KG / 440LB.
Slings
We do not provide slings. You must bring your own sling. A lifting sling with four to eight lifting straps designed for mounting on hooks should be utilised with this hoist. Only Guldmann lifting sling or other suitable slings should be used.
Contact us
Please email: info@starandshadow.org.uk if you have any questions about the Changing Places Toilet.
Please see photos of the Changing Places bathroom, the sling hooks and hoist controls below.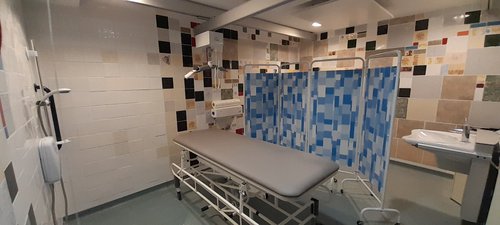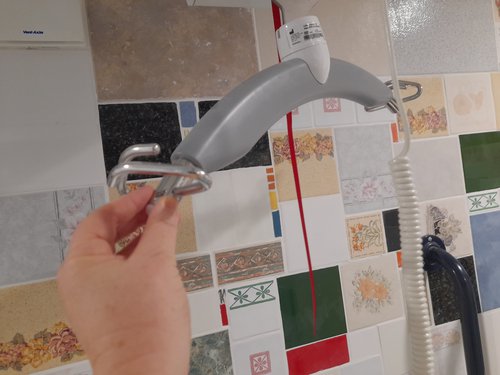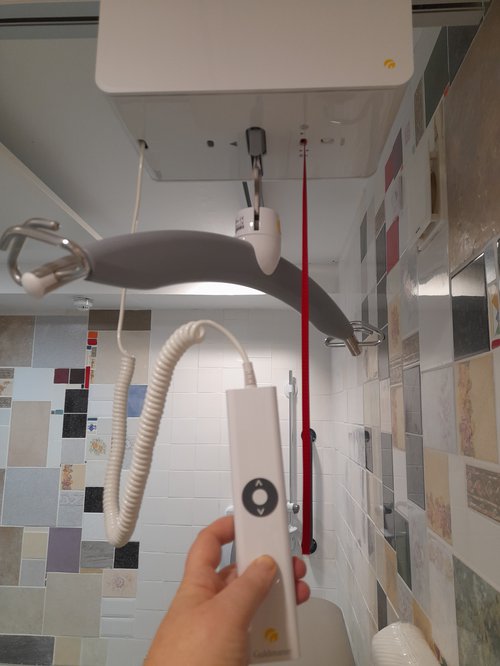 What is a Changing Places toilet?
A Changing Places toilet is more than an accessible toilet or a "disabled" toilet. It is a large room with a changing bench, ceiling track hoist, shower, toilet, and wash basin. It enables people with profound and multiple learning disabilities, as well as other disabilities that severely limit mobility, to get to the toilet or have their incontinence pad changed with safety, dignity and comfort.
Standard accessible toilets do not provide this equipment nor is there room to accommodate the carers who assist the disabled person. Without Changing Places toilets, the person with disabilities is put at risk, and families and carers are forced to risk their own health and safety by changing their loved one on a toilet floor. That is if the disabled person and their carer leave their own home in the first place. The fact is, due to the lack of these facilities in public places, people needing them will either stay at home, or just travel within a few miles radius of their residence so that they can return home if they need to use a bathroom. Therefore they are cut off from social and cultural activities.
Further Information
Although the numbers are increasing, there are still not enough Changing Places toilets across the country. Providing these toilets in public places would make a dramatic difference to the lives of thousands of people who desperately need these facilities. Information, including installation specifications and a map of where to find a Changing Places Toilets, can be found on this website Changing Places Toilets (changing-places.org)
The Star & Shadow Cinema is located in Warwick Street, Newcastle, NE2 1BB. It is a social space comprising a cinema, gig/club venue, bar, café, library and community garden . It is 100% volunteer run.
Opening hours
When there is an event on. See website for details.
Website: https://starandshadow.org.uk/
Twitter: @StarAndShadow
Instagram: https://www.instagram.com/starandshadow/
Email: info@starandshadow.org.uk